Our Hospital Needs Gaming Heroes Like YOU! Join Extra Life and Help Change Kids' Health
Children's hospitals like the Lauren Small Children's Center at Bakersfield Memorial Hospital are on the frontlines when it comes to protecting the health of future generations. But we can't do it alone. That's where you come in. As a gaming hero For The Kids treated at Lauren Small Children's Center you're helping change kids' health and change the future.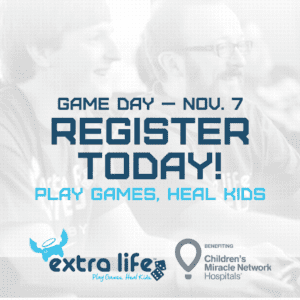 We believe when we positively change the health of even one child, we create a ripple effect felt by our communities for years to come. When we ensure our children can lead healthy, fulfilling lives, we foster the scientists, inventors, gamers, and leaders of tomorrow.
You can play games to heal kids by registering and fundraising at www.extra-life.org/team/bakersfield and choosing the Lauren Small Children's Center as your hospital. Every dollar raised by you will help kids at our hospital. Kids like local Miracle Kid, Kayson Hanly.
Kayson was the youngest patient ever diagnosed at the Lauren Small Children's Center with Type-1 Diabetes. He was 13 months old at the time, he's eight years old now, and he still relies on medical care from the Lauren Small Children's Center. The money you raise playing games helps Kayson and other kids like him by funding life-saving medical equipment.
Here are a variety of ways you can help the Lauren Small children's Center through Extra Life:
We need your help now more than ever. Will you join us? www.extra-life.org/team/bakersfield