We Rise By Lifting Others
On Wednesday, July 5th, a family with an ill toddler was identified by social services with no food at their home. Following the diagnosis of the toddler being diabetic, you could understand why this family was facing a critical need. Our pediatric hospitalist, Dr. Crystal Carney, learned of their situation and reached out to Marketing to see if anything could be done, even though the child was being discharged the same day. The Marketing Department sent an urgent email to our employees asking for any donations to make sure that food was available when the family returned home.
Within two hours, we received $500 in cash donations, as well as gas, Target and WalMart gift cards donated by Community Benefits at Mercy Hospital and many others. We are privileged to able to work with such amazing people. As Dr. Carney herself wrote in the gift card that she donated to the family, "God never gives you more than you can handle, but he never said your friends couldn't help."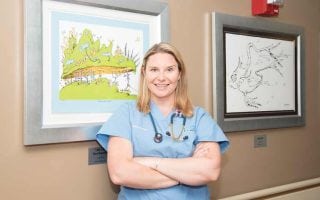 Below is a list of departments and individuals who stepped in to help.
Contributing Departments:
Auxiliary, Orthopedics, XRay-Imaging, Community Benefits at Mercy Hospital, BMH Foundation, Med Staff, MDRs, Performance Excellence, Labor and Delivery, Food/Nutrition, Dietary, Social Services, Marketing and Communications, Administration.
Individuals:
Christy Stewart, Wanda Brown, Gary Stevens, Gary DeRisio, Concha Barker, Patty Keefer, Yusef Adams, Fabiana Rienzo, Jessica Neeley, Ken Keller, Robin Mangarin Scott, Rita Flory and Dr. Bhogal.
On behalf of this family, thank you all for your humankindness. God Bless you ALL.
Article originally published in Mercy & Memorial Hospital's Weekly Dose and written by Robin Mangarin-Scott, VP of Strategic Marketing & Communications